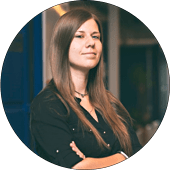 Nina Piotrowska
Hybris Consultant & Java / TypeScript Software Engineer – E-Commerce
Software engineer with M.Sc. in Industrial Computer Science specialized in IT Security. So not only is she an exceptional programmer but also knows how to weld and harden steel.
 
Highly adaptive, motivated, skilled, not afraid to venture into new technologies, quickly picking up fundamentals and mastering them. As a Hybris consultant, Nina has been involved in multiple B2C and B2B e-Commerce projects, where she has contributed to the platform itself, extending its core components. She's been working both directly with SAP Commerce and around it. She's experienced in integrating the platform with other applications, including SAP products, like ERP, C4C, and Marketing Cloud, employing a variety of technologies: from standards, like Data Hub or CPI, to fully custom implementations using GraphQL.
 
Outside of work – a songwriter, a singer, a guitar player, a gamer.
 
Certified Hybris Core / Commerce Developer, Java Associate / Programmer, Spring Professional / Enterprise Integration Specialist.